Staff

DICK- Dive Shop Owner & Dive Instructor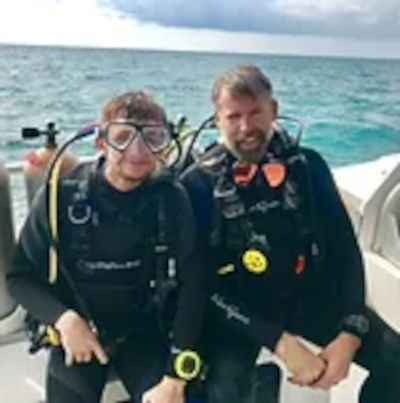 Originally from Yakima, WA Dick developed a love for the ocean while vacationing on the Oregon Coast as a kid. Dick began diving in his 2010 and immediately knew that he wanted to do this forever. He continued his diving education over the years and became a dive instructor so that he could show people how amazing it is to see what is below the surface of the crystal blue waters and truly "breath the sea". Dick has completed over 800 plus dives in over 15 Caribbean Islands, Florida and the beautiful New England Seacoast.
Dick recently retired from the Portsmouth Police Department after 25 years in law enforcement and is extremely thankful to Chuck Oxendine for his mentorship and guidance as he continues the Portsmouth Scuba tradition into the future!

FAMILY
Dicks family is excited for this next "family adventure" Son Wyatt has been diving since he was 16 years old and continues to enjoy travelling and learning with his father. Wife Julie is quite happy to assist in group travel planning for Portsmouth Scuba Divers in the near future as well as happily working as an executive for a Hotel Company based in the Seacoast area.
Luna and Louie- (English Cream Golden Retrievers).- Portsmouth Scuba mascots...​
"The best things in life are the people we love, the places we've been and the memories we have made along the way"

STEPHEN- Dive Instructor
Stephen was born and raised on the NH coast, and has always loved the ocean. He learned to dive in 2011 with Portsmouth Scuba after a trip to Key West, and instantly knew he wanted to dive as much as possible. He continued his diving education through the years finally getting his instructor certification at the beginning 2022. He has logged well over 500 dives in the Florida Keys, California, The Carolinas, the Bahamas and all over New England.
He currently works as a Physical therapist assistant helping people recover from various injuries. He has 3 beautiful "yet crazy" young

DAN- Repair Technician & Dive Instructor
Dan has been working with Portsmouth Scuba for over 25 years and first became a certified Diver in 1973! Dan was born in raised in New Hampshire and currently resides in the coast of Maine. He has always had a love of diving and the ocean.
Dan was in the Navy and was a military diver stationed in Spain. He has now been working at the Portsmouth Naval Shipyard for 45 years. Dan not only assists many of our classes with his diving expertise he also is a very experienced scuba equipment technician! Dan has multiple certifications in repair of most all brands and gear. We are proud to have Dan as part of our Portsmouth Scuba team!